Our Practices
Aberdeen Poll Dorset Stud is a member of Sheep Genetics Australia and Meat and Livestock Australia.
As owners we have a passion to take the Aberdeen Stud to meet our high expectations and goals to promote the Stud to the highest level achievable. We are a young and enthusiastic family who have a desire to breed stud stock and will continue to focus on meeting the needs of its clients.
Aberdeen is a brucellosis accredited stud Y 498, and is enrolled in the Market Assurance Program and holds a flock status of MN2-V. Marabou is a footrot free property. All young sheep at Marabou have been vaccinated for OJD and 6 in 1 prior to weaning. All of the stock has also been given appropriate boosters. All rams are reared on lucerne and clover pastures supplemented by lupins to maintain their growth, condition and extra fertility.
While concentrating on figures, Aberdeen's classing and selection policy certainly involves visual appraisal as an integral factor in the selection criteria. With visual appraisal and Lambplan figures we can give independently measured figures for weight gain, fat cover and eye muscle to assist in meeting all market specifications. Aberdeen Poll Dorset Stud use Lambplan to more accurately select sires to achieve higher rates of genetic gain to improve the performance of the rams that we provide to our clientele.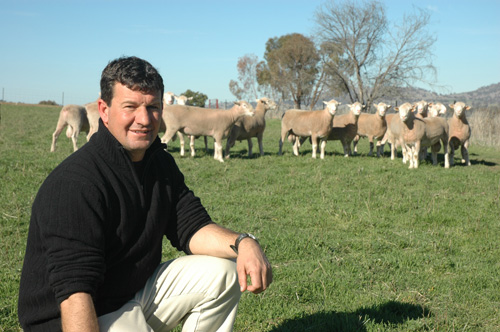 CLIENT TESTIMONIALS

BEN ROBILLIARD, OLD JUNEE
Aberdeen Rams are my choice because they have fantastic growth rates and figures without losing sight of the "real thing", length, shape and muscle.
I weaned 60% of my lambs onto Woolworths to average 24kg (cwt) at 15 weeks of age, 2 years in a row. The rams speak for themselves.

JAMES MALE, YERONG CREEK
We trade and finish a number of lambs in our feedlot. We keep a close eye on the performance of all lambs that we finish. Consistently, our own bred lambs utilising the Aberdeen genetics outperform all other lambs. Whether it is for trade weights or the heavy export markets, we get exceptional weight gain without them laying down too much fat. We couldn't be happier with the Aberdeen rams as they tick all the boxes of structure, shape and exceptionally high figures. They certainly give us a great return on our investment.